VIBRAMATE - GUITARIST GOLD AWARD - 5 STAR RATING!
Vibramate Bigsby mounting kit
A foolproof method of fitting a Bigsby to selected guitars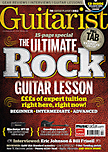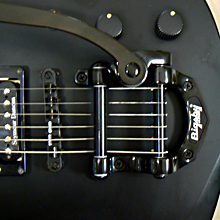 For a genuinely vintage look and wobble performance, only a Bigsby will do, but retrofitting one to your guitar can be a chore. However, if your guitar has a standard tune-o-matic bridge and stud tailpiece, all you need is a Vibramate mounting kit and you're away. They're available for carved top guitars, such as a Les Paul, or flat-tops, such as an SG. There's even a version for a Flying V. You'll need to buy the Bigsby separately, and depending the choice of vibrato, the kit comprises a simple baseplate designed to fit the two holes left by the removal of the tailpiece. The plate is screwed into these holes and the Bigsby is secured by four screws, with no extra drilling required.
In Use
We were supplied with a V500 in black to fit to our flat-top Washburn Idol. We must concede to some trepidation before fitting the unit, but it's no exaggeration to say that it took us less than 10 minutes to set the Bigsby B500 in place and string the guitar back up.
Verdict
The units are available either directly from Vibramate.com or from AllParts in the UK. This is an innovation of true genius and, as long as your guitar boasts a standard tune-o-matic and stud tailpiece, you should find a kit to fit. [SB]
The Bottom Line
We liked: Ease of installation; choice of models.
We disliked: Nothing
Guitarist Rating: 5 Stars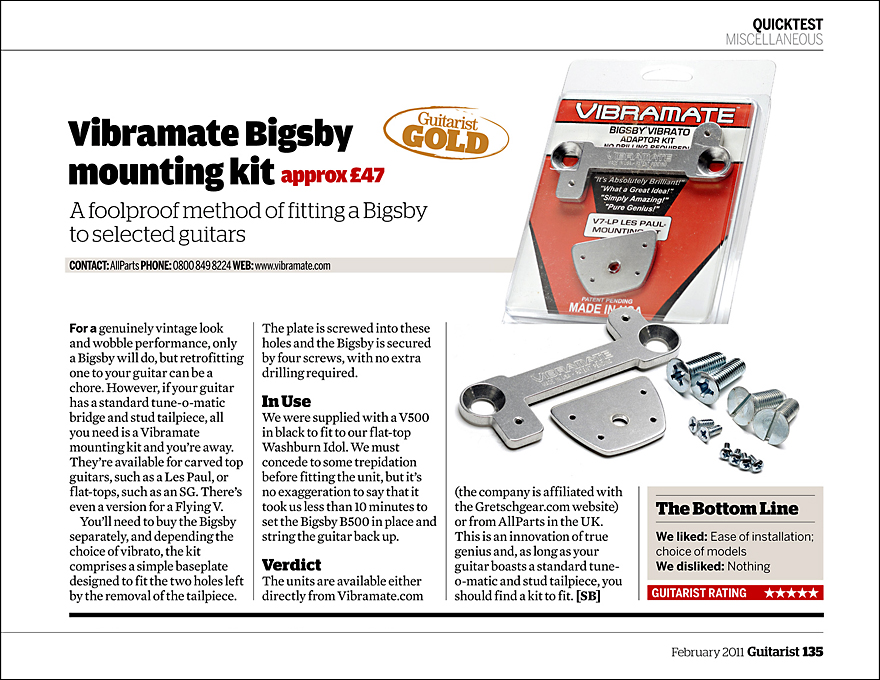 Reprinted by permission: Guitarist Magazine!
| | | | | |
| --- | --- | --- | --- | --- |
| Classic Vibramate! | Short Tail Vibramate! | Flying-V Vibramate! | Carved Top Vibramate! | Vintage Vibramate! |

[ FAQ's ] [ Guide ] [ Order ] [ Spoiler ] [ Tone ] [ Facebook ] [ Photos ] [ Videos ] [ Links ] [ Contact ]